Let's Go See a Moose: Algonquin Park Spring Moose Sighting Adventure Bus Day Trip w/ hiking $79.95 + tax
May 18, 2019 @ 8:00 am

-

7:30 pm

$90.34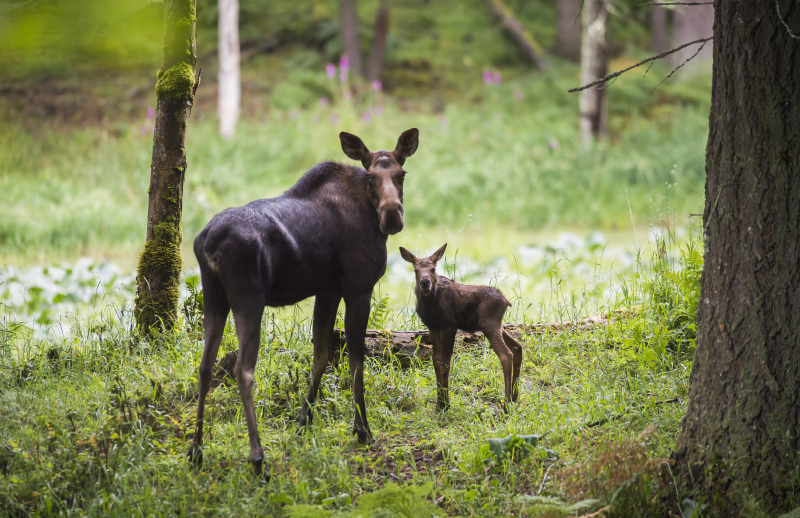 Let's Go See a Moose: Algonquin Park Spring Moose Sighting Adventure Bus Day Trip w/ hiking
only $79.95 + Tax.
Hop aboard our Adventure Bus and sit back and relax as we take you North to Algonquin Park! We'll spend the day exploring some of the best places to spot moose. In addition we'll have 2 optional hikes available to 2 scenic lookouts. We will visit The Algonquin Visitor's Centre to check out their nature & art exhibits, grab some food, and check out the view off of their panoramic lookout deck! All of that before heading back to Toronto with a stop at the famous Kawartha Dairy for some Ice Cream (Dairy Free Options Available)!
Moose Spotting Guarantee:
We have become really good at spotting moose, so good in fact that if the majority of the people on the bus don't see a moose on your Moose Spotting Day Trip we'll give you another trip for free!
About Algonquin Park: Algonquin Park is a Ontario a nature-lover's paradise: 7,725 km of lakes, rivers, forest, trails, camping, comfortable lodges, 2000 km of canoe routes… It's also, perhaps the best place in North America to spot moose! There are about 3500 in the park. The best time for spotting them is in May and June. The moose often come right to the roadside. Sodium-depleted from the winter months, moose hang around the highway because of the salty water in roadside ditches and marshes (for a moose, a marsh is like a big salad bowl). Salt is deposited in this area each winter during snow removal.
What's Included:
– Transportation to and from Algonquin Park from Keele TTC Station
– 2 Guided Hikes along Algonquin's scenic forested trails and lookouts
– Moose Spotting up and down Algonquin's Highway 60, one of the best places in the world see moose!
– Visit to the Algonquin Park Visitor's Centre
Pick Up and Drop off ( two locations ):
8am. Keele Station Pick Up: Drop Off: 7:30pm (approx.)  Be early, Don't be late or you will miss the bus – no refund for missing the bus.
8:25am. York Mills Stn. at the Kissn' Ride on Old York Mills Road, one block south of York Mills behind the Shell Gas Station Car Wash Drop Off about 7pm.  Be early, Don't be late or you will miss the bus – no refund for missing the bus.
What to Bring:
Pack yourself a lunch for the day or feel free to grab one on the way up during our Tim Horton's break.
Wear comfortable hiking footwear that you don't mind getting muddy and wet!
Dress warm and in layers, you can always remove layers and leave them on the bus.
Bring something to drink, water recommended!
Don't forget your Camera!
Itinerary:
8:00am Pick Up at Keele TTC Station
8:25am. Pick Up at York Mills Station
9:15am 20 Minute Break at Barrie On Route
9:20am Depart Barrie On Route for Huntsville
10:45am Arrive in Huntsville Ontario and stop for Washroom Break
11:00am Depart for Algonquin Park
11:30am Arrive in Algonquin Park and start Moose Spotting!
12:30pm Approx. Arrive at Optional Hike #1 – Lookout!
1:30pm Approx. Finish Lookout Hike and Depart for Algonquin Visitor's Center
1:45pm Approx. Arrive at Algonquin Visitor's Centre for 30 Min Lunch Break!
2:15pm Approx. Depart Algonquin Visitor's Centre for more Moose Spotting and head to Hike #2
2:45pm Approx. Arrive at Hike #2 – Hardwood Lookout!
3:45pm Approx. Finish Hardwood Lookout Hike and Depart Algonquin Park back to Toronto!
4:15pm Approx. Stop at Kawartha Dairy for the best ICE CREAM! (Dairy Free Options Available).
4:45pm Approx. Depart Kawartha Dairy
6:15pm Approx. Arrive at Innisfil OnRoute for Food/Washroom Break
7:00pm. Approx. Drop-off York Mills Station
7:30 Approx. Drop off at Keele TTC Station
Refund Policy:
Full Refund if The Adventure Bus Company cancels for any reason, if you cancel and you provide a written email notice 72 hours prior to the event emailed to TedCordina@gmail.com  you will receive a 90% refund.  If you do not provide a 72 cancelation notice or if you miss the bus for any reason you will not get a refund.  Be early so that you do not miss the bus.
Payment Options:
1) You can book directly though this website using your PayPal or Credit Card.  If paying by credit card, simply go to the Paypal option on the check-out page, ignore entering your Paypal info and click on the Credit Card payment option below in the Grey Box.
2) The other option is to send an e-transfer to tedcordina@gmail.com
– Make sure you include your phone number and email.
Security Question: Day trip happening on May5
Algonquin Park Spring Moose Sighting Adventure Bus Day Trip w/ hiking
only $79.95 + Tax.  = $90.34