Join Us to Canoe the meandering waters of Menising Wetlands Wildlife Area Adventure Bus Day Trip
May 11, 2019 @ 9:00 am

-

6:30 pm

$89.95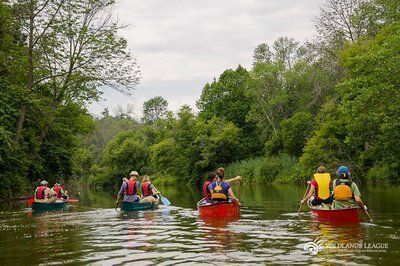 only $79.95 + tax
Join Us to Canoe the meandering waters of Menising Wetlands Wildlife Area Adventure Bus Day Trip
What's Included:
– Canoe seat w/ Paddle for ONE
– PFD "Lifejacket"
– Guided Paddle from one of our experienced guides
– Transportation from Toronto – Keele & York Mills TTC Subway Stations
– Light Snack
Hop aboard our Adventure Bus and sit back and relax as we travel north to Ontario's scenic Minesing Wetlands for our 4-5 hour paddle from Angus to Edenville through the internationally renowned Minesing Wetlands. The Minesing Wetlands paddle is a wonderful spring paddle. It is a slow moving paddle that meanders through forest and marsh where we see a vast variety of migrating and Ontario birds plus a wide variety of wetland wildlife and plants. We'll be following a section of the same route used by natives for thousands of years to travel from inner Ontario to Georgian Bay!
A great way to Exercise, Socialize, and Enjoy Ontario's Great Outdoors!
Difficulty: easy, but if you are new to paddling a boat we recommend that you take a few hours prior to this trip to practice paddling by renting a boat from TorontoAdventures.ca and enjoy a paddle right here in the city of Toronto on the wonderful Humber River, right at the Old Mill TTC Subway Station.
PICK-UP & DROP-OFF LOCATIONS:
1. 9am. Keele TTC Station- Right in front of the main entrance on Keele St.
2. 9:25am. York Mills TTC Station Kissn' Ride area, located on Old York Mills Rd., one block south of York Mills and Yonge Street, behind Shell Gas Station Car Wash
How it Works:
We will pick you up from the Keele TTC Subway Station or the York Mills TTC Subway Staion and then depart for the Minesing Wetlands. Along the way we'll make stops for washroom/food breaks every 1-1.5 hours. Once we arrive at our start location in the Minesing Wetlands we will park, unload everything, go over a basic paddling refresher then depart on our 3-3.5 hour paddle. Along our paddle we'll stop for a Lunch Break for about 20 minutes – remember to pack a lunch or grab one at one of our stops on the way up. Once we finish our paddle we'll load everything up and head on back to Toronto! Our TA Guides will be there to help you every step of the way! We will return at approximately 6:30 pm.
What to Bring:
Make sure you pack yourself a lunch and fluids or purchase one on the way up.
Bring Sunglasses, Sunscreen Etc!
Shoes/Sandals/Boots that offer good support and can get wet.
Don't worry if you do not pack a lunch, we will be stopping on the way where you can pick-up a lunch to bring with you for lunchtime
*****Payment Options******
1) You can book directly though this site using your Credit Card or a PayPal account.   (there is an option to pay via credit card in PayPal as well, simply click the Credit Card option in the GREY BOX).
2) The other option is to send an e-transfer to tedcordina@gmail.com
– Make sure you include your phone number and email.
Security Question: Canoe Day Trip happening on May11 ?
Answer: May11Canoe (ONLY use this Q & A(copy/paste) – do not make up your own!!)