Humber River Kayaking Adventure Bus Day Trip, right here in the City of Toronto
May 19, 2019 @ 9:00 am

-

5:30 pm

$45.14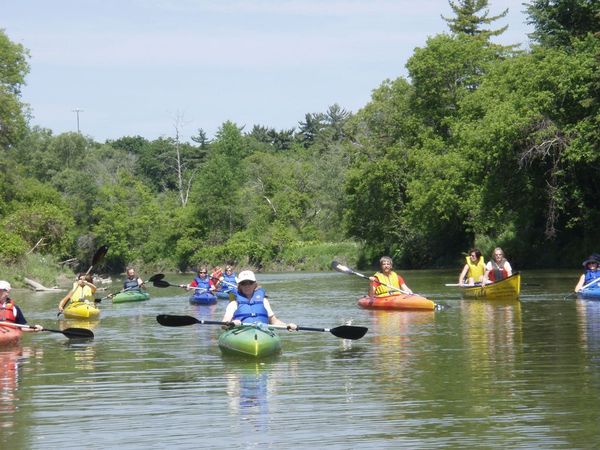 only $39.95 + tax
Humber River 2Hr. Kayaking Adventure, right here in our City of Toronto, amazing Price: $39.95 + HST per person.
Join us on our 2 hour Guided Kayaking Adventure located right here on Toronto's wildlife packed scenic Humber River! Only a 5 minute walk from Old Mill TTC Station (Toronto's Public Transit) our Canoeing program is a great way to learn something new, explore the beautiful, calm & meandering waters of The Humber River and Have Fun!
Event Difficulty: Beginner but fun for all!
Where:
York Mills: Bus Pick-Up 8:55am. at York Mills TTC Subway Station, at the Kissn' Ride on Old York Mills Road, one block south of York Mills behind Shell Gas Station Car Wash.
or
Old Mill TTC Station: Bus Pick-Up 930am. Keele TTC Subway Station
or
meet us at our HUMBER LOCATION at 10:05am. sharp: you can meet us directly at our Humber Location right in Toronto, on the west bank of the Humber River right below the Old Mill TTC Subway Station. Go to http://www.TorontoAdventures.ca for directions.
How It Works: Once we arrive at our Humber River location, we go on our breakfast hike. After the breakfast hike we end up back at the Humber River Paddling Centre. We get you signed in, then start with a brief on-land paddling lesson before we get on the water for a 1.5 hour guided paddle of the Humber River's calm meandering waters. Along the way, our experienced instructors will tell you about the Humber and its wildlife, while helping you hone your paddling skills. We finish our paddle in the same location we started, so no need for a shuttle!
Note: Please arrive at least 15 minutes early.
What's Included:
– Guided 2 Hr. Adventure, no experience required, great for beginners.
Your spot in one of our KAYAKS
◦Boat, Lifejackets, Paddles and all other equipment provided
◦Intro to Canoeing lesson from our experienced paddling Instructors
◦1.5 hour Guided Tour of Toronto's scenic Humber River
◦Our experienced TA Instructors to help you every step of the way! What to Bring:
◦Dress for the weather!
◦Wear footwear you don't mind possibly getting Wet & Muddy.
◦Sunscreen, Sunglasses & Hats, are all recommended for sunny days!
◦Change of clothes (Required for all paddlers in April & May)
◦Don't forget your Cameras!
*****Payment Options******
1) You can book directly though this website.  You will be taken to our checkout where you can pay via PayPal or with your Credit Card  (there is an option to pay via credit card in PayPal as well).  If paying with your Credit Card, select the Credit Card option in the Grey Box at the bottom of the PayPal check-out  page.
2) The other option is to send an e-transfer to tedcordina@gmail.com
– Make sure you include your phone number and email.
Security Question: Day trip happening on May19 is?
Answer: HumberPaddle (ONLY use this Q & A(copy/paste) – do not make up your own!!)