Small town Ontario – the charming, Town of St. Jacobs and Farmer's Market, Adventure Bus Day Trip!
July 6, 2019 @ 9:00 am

-

6:00 pm

$67.74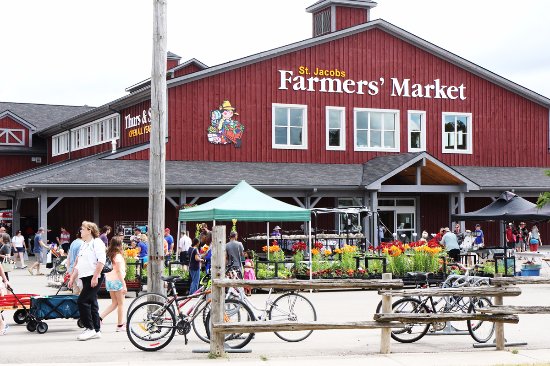 Town of St. Jacobs and Farmer's Market, Adventure Bus Day Trip only $59.95 + HST.
OVER 20 PEOPLE GOING FROM OUR 4 SITES SO FAR.
HI EVERYONE!
An incredible summer day in St Jacobs – produce from the local farms abounds at such incredible prices.
You can enjoy all the amazing food at the market – Pancakes and fresh maple syrup – perogies- butter tarts and pies – make sure to take some home!
We will also visit the village of St Jacobs with its one of a kind shops and bakeries. Check out the ANGEL STORE for some unique gifts.
And don't forget Picard's peanuts – Ontario's own grown nuts at unbelievable prices – and lots and lots of samples.
And end the day at Ontario's last covered bridge.
You will love this day! Bring a friend or some family or come out and meet lots of great new people!
STOCK UP ON REAL MAPLE SYRUP FROM LOCAL MENNONITE FARMS!
CHECK OUT THE FARMERS MARKET AND OUTLET STORES. .
Indulge in my favourite treat APPLE FRITTERS!
After our market visit we will travel to Picards Peanuts for some incredible samples and purchasing! If you have never been – you will LOVE it!
We will then travel to the Main Street of St Jacobs for a visit to their incredible stores.
After a fabulous day – we will stop at the last covered bridge in Ontario for a photo opportunity on the way home.covered bridge
ONLY $67.74 tax included, WOW!
Your ST JACOBS Experience includes:
-Round trip transportation via THE ADVENTURE BUS with washroom
-Complimentary water on board
-Free Time at the Farmers Market
-Free Time on Main Street St Jacobs
-Visit to Picards Peanuts and samples
-Visit to the Covered Bridge
– All taxes
Pick-ups:
9am. Keele TTC Subway Station
9:25am. York Mills TTC Kissn' Ride located on Old York Mills Road, one block south of York Mills, behind the Shell Gas Station Car Wash.
Round Trip Transportation provided from Keele TTC at 9.00 am and York Mills TTC at 9:25 AM. Return in the evening.
*****Payment Options******
1) You can book directly though this website using your PayPal or Credit Card.  If paying by credit card, simply go to the Paypal option on the check-out page, ignore entering your PayPal info and click on the Credit Card payment option below in the Grey Box.
2) The other option is to send an e-transfer to Info@TheAdventureBusCompany.com
– Make sure you include your phone number and email.
Security Question: Which trip is happening on June 8th ?
Answer: StJacobsMarket (ONLY use this Q & A(copy/paste) – do not make up your own!!)