Saturday, January 25th – WINTER FUN, Horse Drawn Sleigh Ride Adventure Bus Day Trip w/ S'MORES & Hot Chocolate !
January 25, 2020 @ 9:00 am

-

5:00 pm

$79.04 – $89.96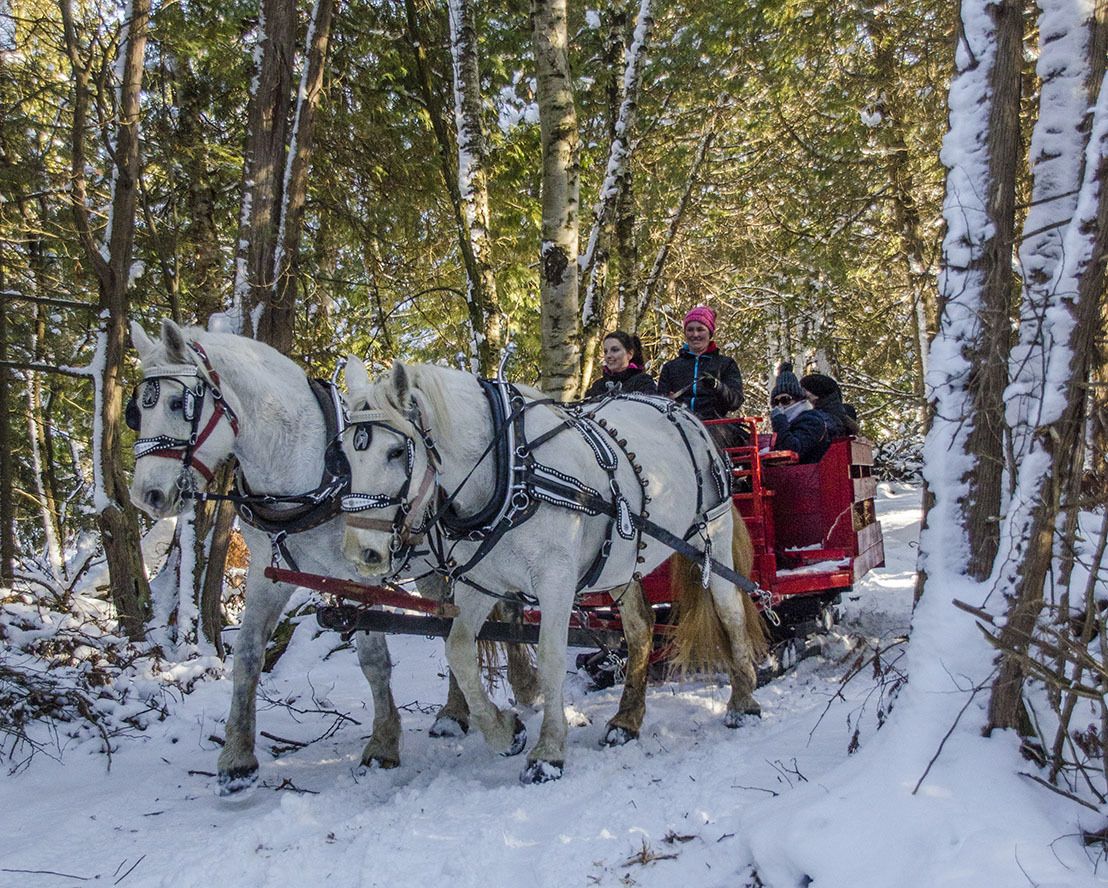 WINTER FUN, Horse Drawn Sleigh Ride Adventure Bus Day Trip w/ S'MORES & Hot Chocolate !
Get out and enjoy the Canadian winter this season by joining us on a winter wonderland Horse Drawn Sleigh Ride Adventure Bus Day Trip!
Feel like a kid again and enjoy a festive Horse Sleigh Ride. The horse sleigh ride starts from the barn and travels along fields and continues through the beautiful forests. At the half way point we disembark our sleigh for a a Hot Chocolate break in the enchanted forest, warm blankets provided.
So, if you are lucky, you may also catch a glimpse of a wild turkey, deer, or fox …. . The horse drawn sleigh ride takes up through a winter wonderland of forest trails and meadows.
Plus, we get to spend time in a barn where you will see other majestic horses and decorated wedding and special occasion Horse Carriages while enjoying snacking on S"mores.
Experience winter in a whole new way! Dash through the snow on a horse drawn sleigh. This great family and friends activity is fun for all ages, and is a picture perfect way to spend a winter's afternoon.
After the sleigh ride we invite you to relax in our barn, sipping on hot chocolate and enjoying S'mores while sitting close to the wood stove.
BUS PICK-UP TIMES:
– 9am. at Keele TTC Station at front entrance of Station on Keele St.
or
– 9:25am. at York Mills TTC Subway Station on York Mills Road, just east of Yonge Street, in-front of the StarBucks.
A Great way to have fun and get outside this Winter!
FOOD & WASHROOM BREAKS:
Pack yourself Breakfast and Lunch or grab one at the ONRoute, (which is the highway washroom/food centre). We stop for washroom & food break on the way up and on the way back.
DIFFICULTY LEVEL: Beginner but fun for all!
WHATS INCLUDED:
– Transport to and from the event from Toronto
– Horse Drawn Sleigh Ride
– Time in warm barn
– Campfire break w/ S'MORES & Hot Chocolate
– Our experienced Guides to help you every step of the way!
IMPORTANT INFORMATION:
– sorry, No Dogs allowed.
– good for all ages all ages. Anyone under 18 must be accompanied by an adult or legal guardian. Children are more than welcome, but we do not offer children discounts for this event due to our cost.
WHAT TO WEAR:
When participating in any Outdoor Activity it's important to Dress Appropriately and this is especially true for Winter Adventures!
– Dress in layers so that you can easily add or remove layers throughout the trip to regulate your temperature as needed.
– Bring more layers that you think you'll need, you can always remove them during the trip– We highly recommend water resistant Jacket, Gloves, Pants, and Boots!
– Wear a hat!
– Wear warm winter boots! … Not city winter boots!
– Bring a pair of shades… Yes, it's even brighter in the winter!
– You know yourself best, if you get cold easily bring extra layers.
– We will be exercising so you will most likely get quite warm out there… Don't forget to remove layers before you get too hot!
Note: please do not show up wearing running shoes, no hat, no gloves and a light jacket.